If you were not watching live, you have probably seen it by now. During the O-Course portion of The Battleground, Patrick Vellner fell off the cargo net and landed hard on the sand. His shoulder and upper body took the brunt of the impact.
Vellner's fall was just moments after Mat Fraser fell on the same obstacle. Both athletes got back on their feet and finished the event. Fraser would take 2nd while Vellner would finish 4th.
Prior to the start of the Clean & Jerk Speed Ladder the commentators made quick mention that Vellner went to the hospital for observation following the fall. However, it seems as though it was much more serious.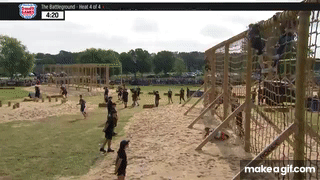 According to Vellner, his fall resulted in him coughing up blood. Once he crossed the finish line and the medical staff for evaluation. They took him to the hospital and he had a CT scan where they diagnosed Vellner with a bruised left lung.
The CrossFit Games medical staff discussed the injury with Vellner and it was determined he was allowed to conditionally compete, similar to when he tore his bicep at Regionals in 2016.
Of course we all know Vellner was able to make it through the entire competition. On top of that Vellner would take 2nd place overall.